DJ Edwin Morrow
How do you write a biography about a man who never needed one? Edwin Morrow was an integral, pivotal part of the Brisbane dance community — without him many of Brisbane's memorable and favourite gigs, parties, other DJs and music artists would not have happened, at least not in the same way. He was larger than life, yet humble, friendly, passionate about music and always positive towards people who went out. He was part of the crowd as well as being one of the major figures of the scene, and a friend to many. Everyone in the Brisbane dance community knew of him and his music and he was respected to the highest level then, and still is now. He was a DJ of and for the people.
During the early-mid 1990s it seemed that every weekend there was a major dance party held at either The Site, or The Roxy, or later The Tube — often with international bands and DJs such as The Prodigy, who played in Brisbane a few times. There was a friendly rivalry made of mutual respect between Edwin and Peter Brown, another of Brisbane's influential and early promoters. Edwin and Peter Brown's dance parties were multi-room affairs covering a variety of music styles, but mostly hard styled dance music. Edwin's parties featured the best of Brisbane's local DJs and artists, and even a few interstate visitors. He felt great sound was an important part of the party and would spend time with the audio engineers asking for "more bass". Jason Summers' (Static'n'Lincoln) memory is a classic example,
". . . Our next encounter though was when I was bumping a sound rig in for a Halloween party in a building called "Manhattan's" (later known as The Site) which had barely been used since the Fitzgerald Enquiry in the early 80's. I was working for Barry Beatie (a well known audio engineer of the era) who was almost pulling his hair out because the client inside wanted, 'MORE BLOODY BASS!!'. When I enter the building, I notice a large and familiar silhouette of a man standing in the middle of the dancefloor saying, 'Surely you can make it louder, man. My retinas aren't shaking yet'. It was Edwin, and he was try to convey his vision for the euphoric concept that would later become 'Adrenalin'. We had to run a second rig in in the end, quading the system by putting a speaker stack on each corner of the dancefloor. That was something else that Edwin pioneered, the purpose built sound rig."
Between all of these dance parties there was the stalwart nightclub — The Beat. Edwin was known for his ability to take the music harder — without being clichéd, he really would "read" the dance floor and adjust the sounds accordingly. When he played at The Beat, some people would arrive just to hear his set, others had been out at other clubs and getting tired in the early hours of the morning, and more had been at the club all night, yet he would lift the vibe again and ensure a great night out. His long, dark hair would be flailing, his arms waving and he'd be dancing along with the crowd. He'd look up to see how people were enjoying the sounds, and this encouraged him, and them, even more — it was a perfect feedback loop of emotion, sound, dancing and vibe. He was even a DJ who liked to dance amongst the crowd — often a rare sight in Brisbane in later years — DJs who would also dance.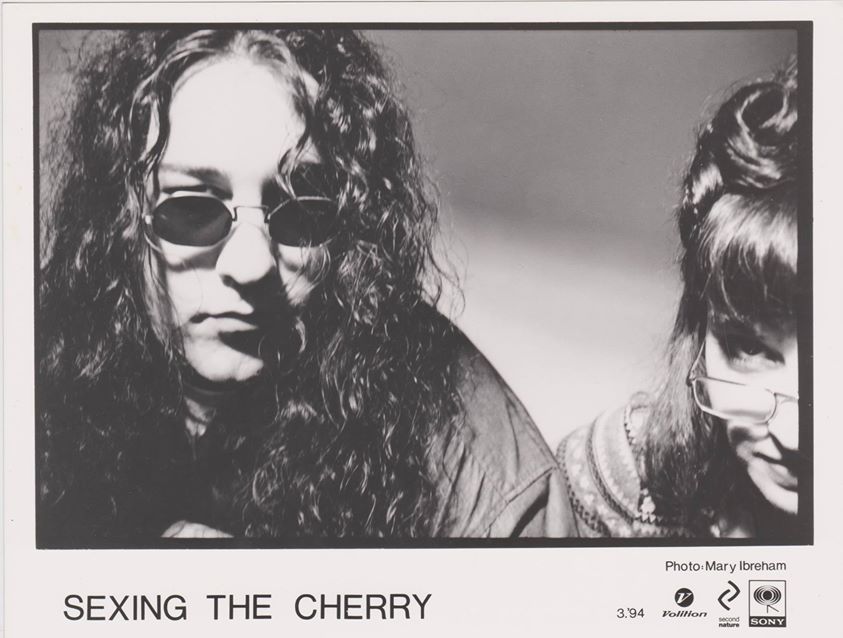 Profile
In the early days of Brisbane's dance parties, there were three DJs who played at every gig — Angus, Edwin and Kesson.
Edwin was a man who loved music — he loved listening to it, he loved playing it and sharing it with others, and he loved creating it. In high school, Edwin was the drummer and singer in an industrial band called "L'ME L'MA" — the name of the band came to him in a dream. "Killing Your Heart (Brutal Stab Mix)" by L'Me L'Ma was released on the "DV8 Remixes - Issue 7" cassette tape by DV8 Productions in 1988. Industrial music was one of his favourite styles, as well as other synth-laden music from Queen, Duran Duran, Visage, Depeche Mode, A Flock of Seagulls, New Order, Dead or Alive, Sigue Sigue Sputnik and Nitzer Ebb. The song "Killing Your Heart" by Edwin's band "L'ME L'MA" was written, sequenced and sung by Edwin and later remixed by DJ Betty. Edwin DJ'd at Stratus at the Homestead Hotel in Zillmere during the late 80s, was a goth DJ at Wall Street in 1986-'87, then moved onto DJing, designing, organizing and promoting some of the best dance parties in Brisbane in the 1990s — the "Halloween Fantasy Ball" parties and of course the epic Adrenalin parties, which began in 1991. The "Michelin man" icon on the Adrenalin parties' flyers became synonymous with Edwin, and also with a great night out — these parties were the stuff of legends (as they say).
Edwin was also in a band called Sexing The Cherry with Cherryn Lomas, which was signed to Volition/Sony Records in the 1990s. Cherryn Lomas advised, ""Steppin' On" [written by Morrow, Lomas and Luke Paramour] was also on the compilations 'Smash Hits 94' Sony Music & 'Pride 2000' & 'Heartbreak High '94' Warner Music. The song also appeared on 'Heartbreak High-Episode 16' June 1994. Sexing The Cherry went on Coca-cola Take 40 in 1994 & supported acts 'M-People' at Festival Hall & 'Take That' at Australia's Wonderland Sydney". Edwin wrote music under a few names separate to his work with the bands — "Eco Cops", "Nu Guerilla", "Rocket Girls", "Eggo & Hot Pocket" (with DJ Jen-E) and "Mister Morrow". Sexing The Cherry and Mister Morrow had a song included on the Volition "High - A Dance compilation" CD (VOLTCD88) in 1992. Sexing The Cherry's song, "Steppin' On Remix" (VOLTCD87), produced by Robert Racic, went to number 33 on the Aria charts in NSW in May 1994 and peaked at position 42 on the Australian "Singles" chart in May 1994. "Cities That Are Downlaid" by "Eggo & Hot Pocket" is a hardhouse song written DJ Edwin & DJ Jen-E that was included on the Advent*jah CD.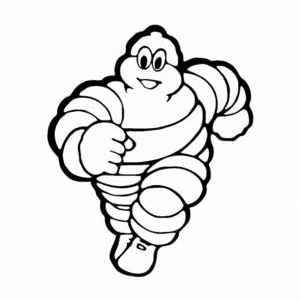 Edwin was a resident DJ at The Beat in Fortitude Valley for thirteen years — playing five nights a week on the 2-5am shift, and later was a resident DJ at Rockerfellas, playing four nights a week. Edwin also worked many years at Central Station Records, originally in the Valley as well as the City store. At the record stores, he would put aside music and make suggestions for many of the regulars. He shared his music knowledge with many people and was known for being kind, generous, funny and always had an energetic dance floor tuned into his sounds. Edwin also DJ'd at Radical Clothing store in the city. He always had a smile and wave for everyone and was one of the most popular DJs in Brisbane. Many people went to the clubs just to hear his sets. He also gave many of Brisbane's DJs and music artists their first gigs, including DJ Zentraedi, DJ Jen-E, Bexta, DJ Freestyle, Neurojack and Barking Boy — having them play at Adrenalin parties and other gigs he organized. He was especially open to giving female DJs a chance to play — an unusual occurrence in an otherwise male-dominated field. In the 1990s he organized an all-female line up for a gig called "Adrenaline". He described the gig as, "Sexy party, sexy girls! For some reason DJing had become a male dominated arena and I believe this is more to do with ignorance and not talent. At the time there were sooo many good female DJs so I thought I would showcase them and let the people decide. Chicks dance, chicks know music and chicks can mix!". Edwin's long term partner Leanne and her sister Deb Watts shared another story of Edwin's musical work: "Around 1997-'98 he created the girl group 'Screw' and then renamed them the 'Rocket Girls'. They played at the dance parties. Edwin wrote all the music, produced and did everything. They were so good that a visiting European hard core dance group later reported in a music magazine that they were the best hard-core dance group they had ever seen". In 1993, Edwin also helped Harry Katsanevas compile the weekly DJ chart in Scene Magazine.
Edwin also spent years writing, recording and performing music to help patients at Cascade Place — a day care centre for people with disabilities. In February 2007, Edwin mentioned in an interview on InTheMix, ". . . recently I've been producing for Canadian label Ruff Cutz and doing some remixing for the Jelly Babes. And to add to that, I have been writing for the supremely talented and gorgeous Chelsea Knights. I've also been DJing four nights a week at Rockafella's in the Valley and I'm a couple of navs away from gaining my P.P.L (private pilot's license)".
Edwin Morrow passed away on Sunday 16th March 2014 from heart failure due to liver complications.
There is an "RIP DJ EDWIN" memorial Facebook group where many of his friends and fans have posted messages and memories of his DJing and other work. Jen-E spoke to Howard Duggan at Scenstr Magazine about her memories with Edwin.
The Beat Nightclub held a memorial night on 28th March 2014 to celebrate his life.
He is sadly missed by the Brisbane dance community.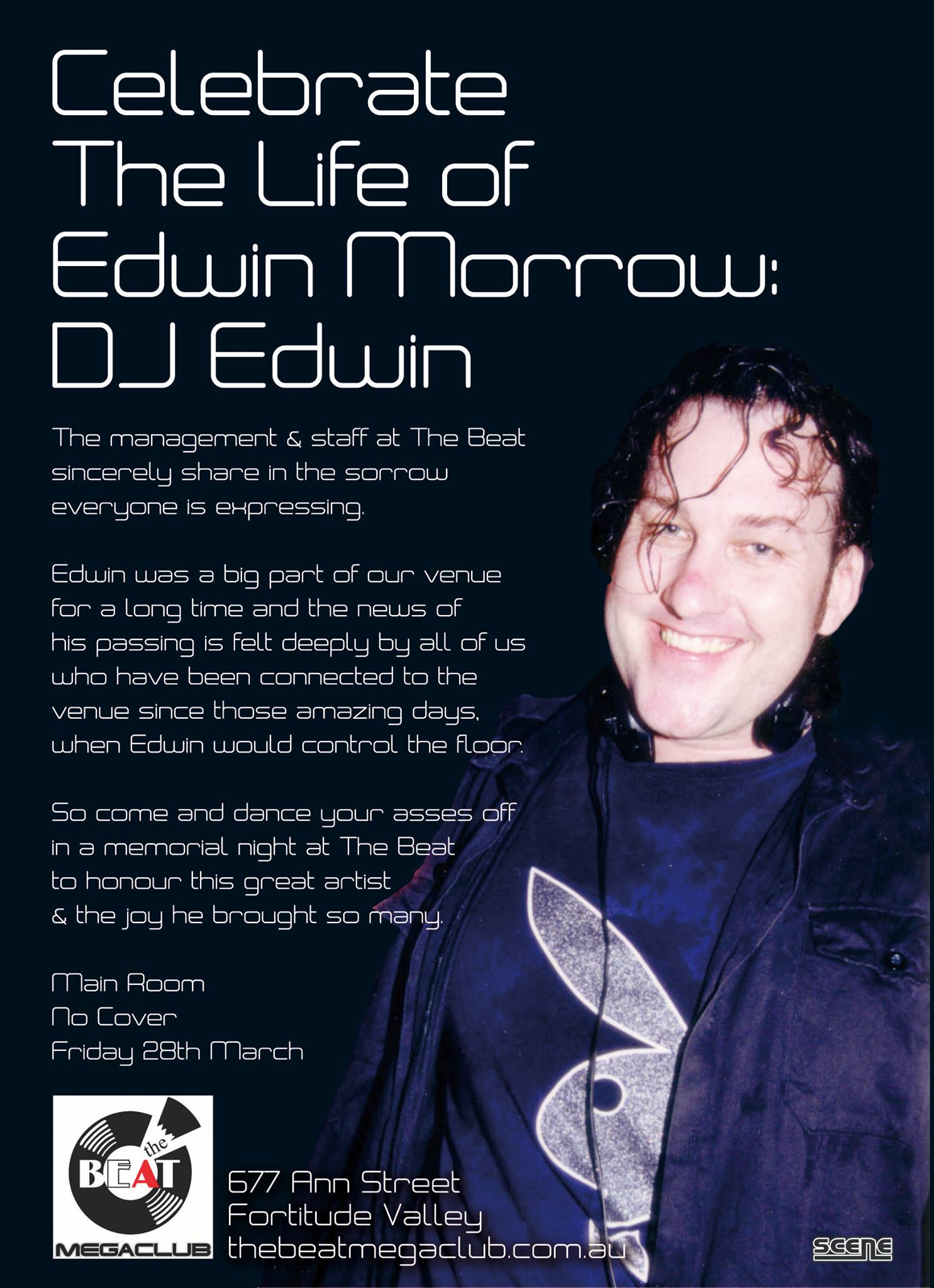 :::
Tributes
Following are some quotes from members of the Brisbane dance community regarding Edwin's influence on them. The "RIP DJ EDWIN" memorial Facebook group has many, many more.
Jason Summers &/for Static'n'Lincoln: "Edwin was our main influence in taking up DJing, as well as putting on our own events...his excitement was contagious, I'd even go as far as saying infectious. I'm a better man for having known him." (via msg following this post)
DJ Sheep: "While I never ever knew Edwin personally, he always hooked us hip-hop kids up at Central Station Records back in the late-80's when it was in the Valley."
Jilly (Dragonflight): "Vale Edwin. Such a great supporter of all our benefit gigs and my early days as a promoter. Your set at Feast was well wickid, like always. It was an honour."
Col Levander: "A good man, a true artist!"
Luke Hollis (DJ Zentraedi): "RIP BIG GUY! YOU'LL BE MISSED BUT NEVER FORGOTTEN... Thanks for all good times and memories... Thanks for all the support and encouragement in the early years.. Thanks for all the DJ sets and dance jobs you were nice enough to hired me for.. And finally a big thanks for dancing with my Mum at ADRENALIN XMAS DANCE CARNIVAL and making her feel comfortable and welcome at the party... One of my all time favorite memories of you and the golden nineties!"
Michael Watkins (Sonik/Radical Clothing store): "I remember looking for a promo DJ for RADICAL and back then I decide[d] that Edwin would be our man and so I chose certain brands that he liked and got our suppliers to get as many different outfits for Ed to wear while he was DJing at the beat and working at central, he loved the free clothes and always told me he had a hard time finding stuff in his size (that's XXL teddy bear wear BTW)!!"
Scott Walker (Candee Flip): "It's taken a while for this huge loss to sink in :( Edwin you will be sorely missed by everyone that ever stepped foot on your dancefloor. To me you were the ULTIMATE RESIDENT dj...by resident I mean that dj that worked the one club 5 nights a week for many many years and managed successfully to stay relevant throughout a few generations of ravers and clubbers and freaks alike and not just excite, but blow away your loyal fans and new comers constantly! Loved your friendly vibes, you always welcomed a messy chat and acknowledged the regulars even at 5am when you had dj'ed your sweaty ass off. Best of all I loved bumping into you at Merthyr Coles on a weekday, you dressed in full black carrying a small basket full of groceries looking hella outta place haha :) Big love and say hi to Angus & Dufty for me x"
Andrew Vines (TiAmos): "I know Wayne Cable posted the track (https://soundcloud.com/betty-aus/lme-lma-killing-your-heart) earlier, and wanted to say what a great track it is, being the only track out there with his voice on it. It's a sad day for the clubbing archives of Brisbane to add this loss, but he will live on in many of our memories. I had the opportunity of taking over the decks from him (or the other way around!) at Rocka's [Rockafella's] many a time over many a year and will always remember him as a vibrant, jubilant individual who would set the dance floor on fire with literally any record he would drop. Thumbs up to the big man for leaving such an impressive mark on the Brisbane Clubbing Circuit, may his 1's & 2's always be spinning..."
Benjamin Smith: "Such a special human being.So much passion for throwing down beats and always quick to play your favorite song.Made you feel like you belonged wherever you were. Inspired so many with great nights and great memories. When I told him I had started mixing he said come in and try with him. It may have only been Tuesday nights at Rockas but I played some back to back with him and he was genuinely nearly as stoked as me."
Les Smith: "Rest in peace Edwin, it was a pleasure to have known you and to have worked with you. You were indeed with Angus the true legends of the Brisbane club and party scene. We will never see your amazing talent as a DJ again."
The Beat: "The Management & staff at The Beat sincerely share in the sorrow everyone here is expressing. Edwin was a big part of our venue for a long time & the news of his passing is felt deeply by all of us who have been connected to the venue since those amazing days, when Edwin would control the floor. We would like everyone to know that Howard from Scene magazine & our Boss Ross are currently trying to work out dates & details for a memorial night at the Beat to honor this great artist & the joy he bought so many. Please keep an eye out for The Beat Megaclub page as wer will post the details as soon as they are known. I will also make sure to share them here. Rest well now Edwin, you are incredibly missed."
Troy Linthorne (Barking Boy): "What a unique charismatic loveable man was Edwin. You gave me my first spot at a rave with open arms and spending time with you was always a pleasure. A true legend and a great man. You improved the quality of many peoples lives."
Kath O'Donnell (AliaK): "RIP Edwin - very sad news. thanks for all the great music and non-stop dancing over the years. from dancing to your set at stratus, the beat, adrenalin parties and more & your band sexing the cherry too. I still think of those days/nights & parties each time I see the michelin man. to you recommending music at the record store in the valley & central station in the city - you introduced me to sounds that are still some of my favourites & were kind and generous to a shy young girl. I used to love going there to see what you'd had in mind this week. I'll always remember your energy behind the decks and be happy that you always said hi and had a quick chat. one of the nicest guys who went out. my condolences to your family and friends. a huge loss to the community."
DJ Jen-E: "He loved his pianos and I always marvelled at his skills without being trained. It was all passion. Whenever he'd listen to something new, he'd always get into the groove of it by dancing first, rather than waiting for the record to make him dance. I think that is a significant factor in who he was — he projected love into things first to see what came back, instead of waiting to see what was offered."
Roberto Masnata: "I met Edwin in high school. He was an intelligent and calm young guy with a strong presence about him, who would always be having a chat in the background during class. On the odd occasion that a teacher would pull him up for not paying attention, Edwin would be able to repeat back, word for word, everything that the teacher had be discussing in class while he had been holding court over his own discussion with his neighbour. It drove those teachers to despair. I was an unsophisticated foreign dude from Western Sydney with a penchant for all things Devo when we met and Edwin took it upon himself to introduce me to more sophisticated artists like Queen, Billy Joel, Joe Jackson and his absolute favourite at the time, ELO. In typical Edwin style, though, he took it upon himself to fully dissect what Devo were all about and ended up knowing their music better than I did.... From the early 80s we went on a musical journey which included all the British bands such as Duran Duran, Visage, Depeche Mode, a Flock of Seagulls, New Order etc. to the later bands like Dead or Alive, Sigue Sigue Sputnik and Nitzer Ebb."
Cherryn Lomas (Sexing the Cherry): "...tribute to Leanne [Edwin's partner of 20+ years](she knows)..Edwin was an incredibly gifted Composer.
" Sexing The Cherry" went to number 33 on the Aria charts in NSW. We don't see this now!... He loooved writing, the "apple " computer linked to 3 x synths with all the beats & breaks. This was a huge "ride" for us; to actually get recognized for our writing of Dance Music."
:::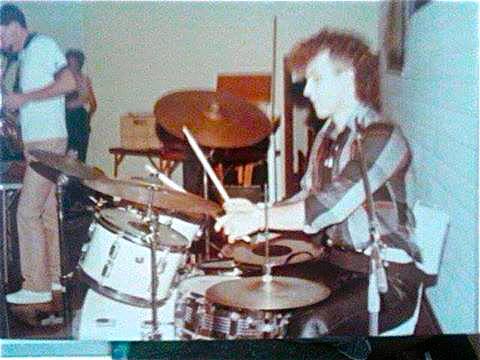 photo of Edwin, the drummer, by Chase.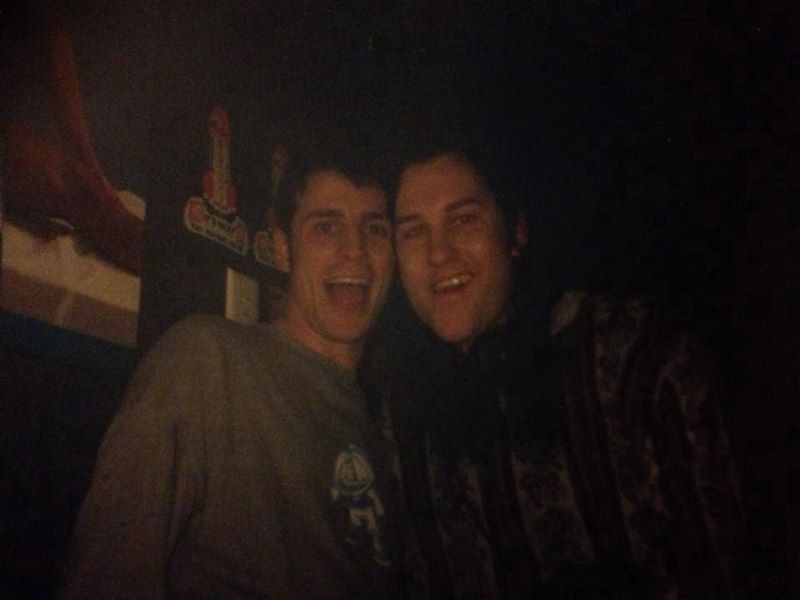 Angus and Edwin - photo by Petra Cameron

L'ME L'MA - Killing Your Heart - remixed by Betty Aus. Extended Edit. 5:50
Produced By R.I.P. (DJ Edwin) Edwin Morrow.
Vocal's & Drum's By Edwin Morrow
Keyboard's By Edwin Morrow & David Karazer
Engineered And Mixed By David Karazer.
Recorded Mixed & Edited @ Sunshine Studios Brisbane. 1987.
https://soundcloud.com/betty-aus/lme-lma-killing-your-heart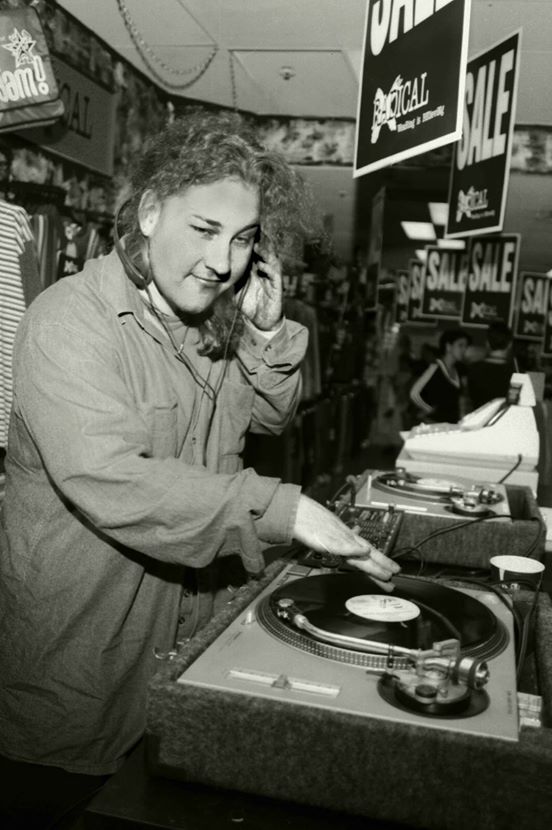 Edwin on the decks at Radical Clothing store - photo by Jeff Polley

Sexing The Cherry - Steppin' On
https://www.youtube.com/watch?v=kf14FS6Y8P8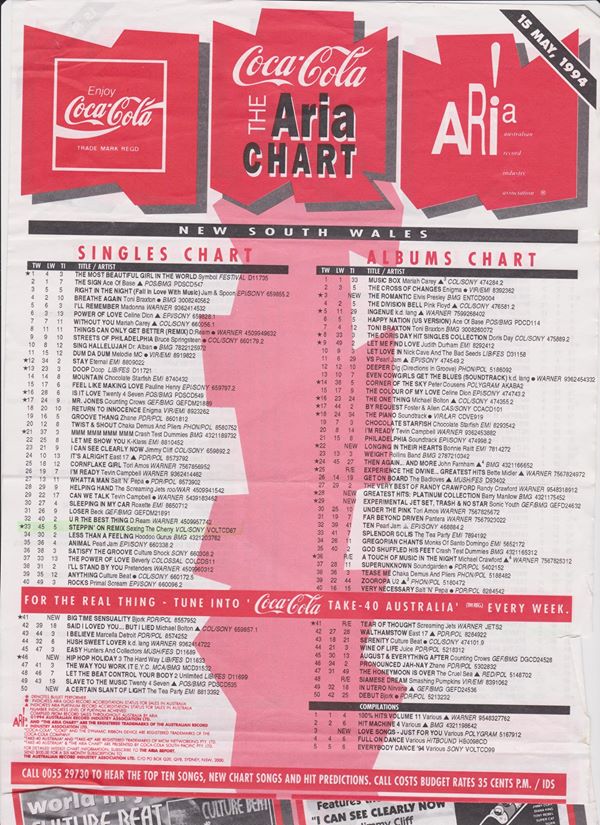 https://soundcloud.com/jenny-juckel/cities-that-are-downlaid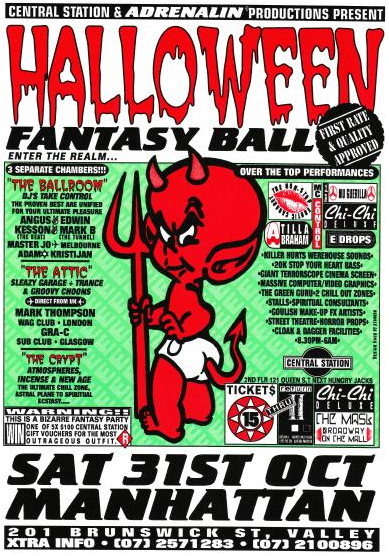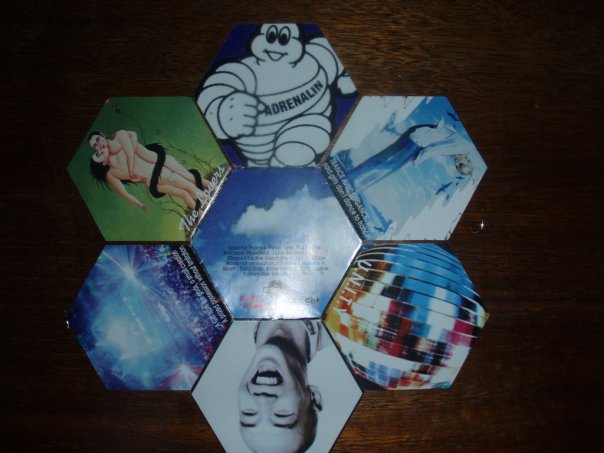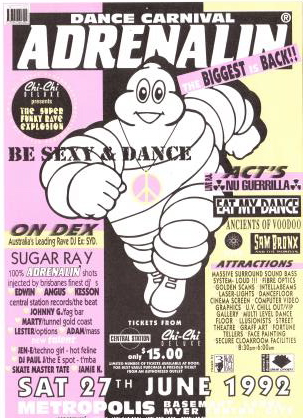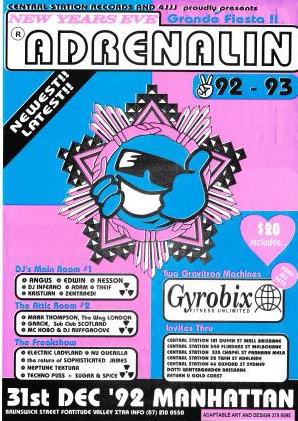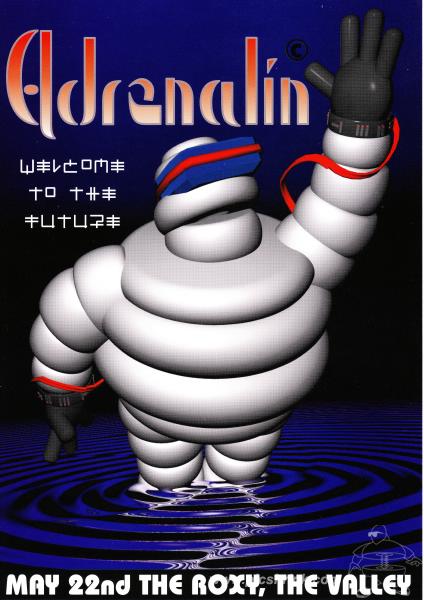 :::
article by Kath O'Donnell
21/03/2014, updated 22/03/2014