Trojan Theatre
Trojan Theatre is a composers collective that was formed in 1990 by five Music Technology students from the Queensland Conservatorium of Music. Their collective compositional voice draws on many influences- Western Classical styles, South East Asian, African and a variety of electronic and 20th century art music styles.
Last Lineup of Trojan Theatre included:-
Ben Suthers
Noel Burgess
Greg Jenkins
Richard Wilding
Bruce Schneider
-- via archived Trojan Theatre page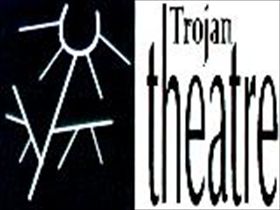 :::
see also Greg Jenkin's page - Trojan Theatre section of his bio here:
greg's first mode of artistic expression was in the composer's collective Trojan Theatre. Trojan Theatre performed at events such as the Brisbane Festival Fringe, Shock of the New and the Wild Front Ear. These performances established an interesting precedent - the band brought their own mixing console which was invariably bigger than the front of house PA. At the time this was considered extremely subversive and a few front of house engineers were more that a little disturbed by this (you've got HOW MANY keyboards?) And then there were the multiple computers on stage ... These performances helped establish the language of musical discourse greg continues to develop today - appreciating and composing with the subtleties inherent within sounds.
-- info from http://www.endophonic.net (archived here)
endoPHONIC review on REDDOG
Trojan Theatre's website
Trojan Theatre's CDs
Trojan Theatre's mp3.com.au page
:::